<![if !vml]>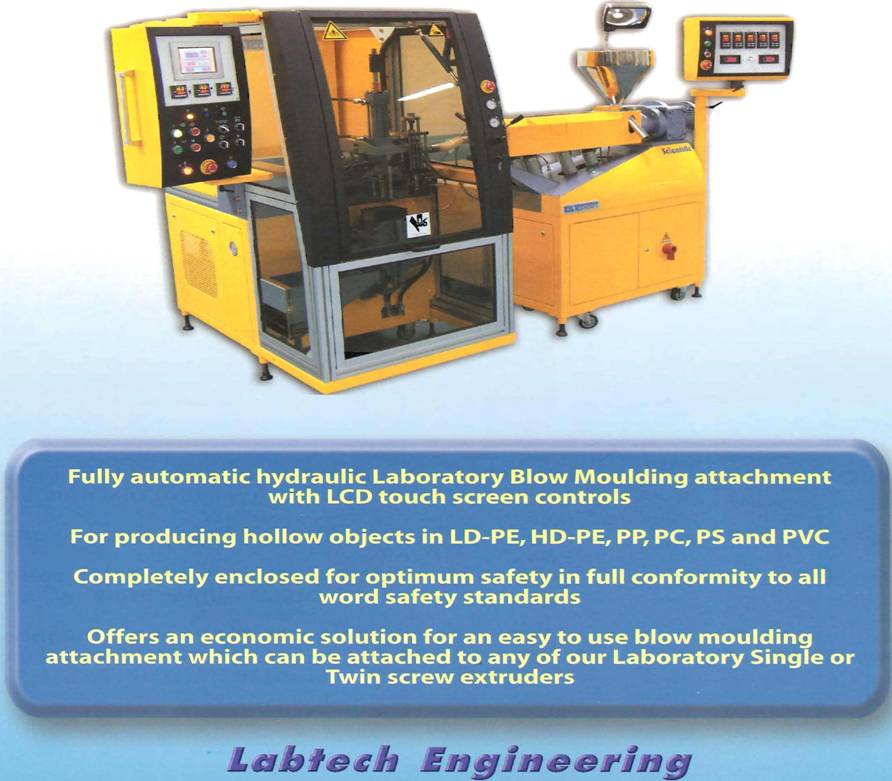 <![endif]>
INTRODUCTION
The Labtech
Scientific
co-extrusion blow moulding machine is a compact unit with pleasing modern design finished off to the usual high standards that Labtech applies to all of its plastics and rubber machines. An attractive feature of the blow moulding unit is its 'futuristic' swing-up front door that allows maximum unobstructed space for access to the working parts of the machine. The blow moulding unit itself is portable and is intended for use with Labtech single-screw extruders, although on request the machine can be modified to fit most other brands of extruder in the 20 to 30 mm diameter range.
Designed primarily as a laboratory machine the co-extrusion blow moulding machine is ideal for making small bottles (up to approximately 400 cc) for color assessment purposes, product development and prototyping.
TECHNICAL DATA
The following data is for the blow moulding unit only. Please refer to the single-screw extruder Instruction Manual for data on the extruders.
Clamping capacity 600 kgf (6 kN)
Platen size H x W) 120 mm x 125 mm
Bottle size 125 cc
Max distance between platens 180 mm
Min distance between platens 20 mm
Hydraulic motor power 2.2 kW
Hydraulic pressure (max) 50 bar (5 MN/m2)
Heaters:
a) Upper die heater 1200 W
b) Middle die heater 500 W
c) Lower die heater 300 W
d) Connecting pipe heaters 240 W (X3 per pipe)
Hydraulic oil type Mobil DTE 25, or other oils with equivalent specifications
Oil tank capacity 25 lt
Machine dimensions (L x H x D):
a) With front door open 140 mm x 210 mm x 180 mm
b) With front door closed 140 mm x 187 mm x 136 mm
Machine weight 650 kg
Services:
Electrical power supply 400 V; 3 ph; 50 Hz
Extruder 1 25 Amps (main circuit breaker)
Extruder 2 25 Amps (main circuit breaker)
Blow moulding machine 25 Amps (main circuit breaker)
Water supply: 2 bar (min)
Compressed air supply 7 bar (min)