Labtech Engineering is the proud manufacturer of durable, precise and innovative laboratory equipment for the plastics industry. Labtech builds equipment to the highest quality standards and in strict conformity to CE and all other world safety norms. Our products include Two-Roll Mills, Rubber Mills, Hydraulic and Electric Presses, Single Screw and Twin Screw extruders, Chill Roll Film and Sheet Casting Lines, Blown Film Lines, Filter Test, Mixers, and more…
Under Swedish management, Labtech Engineering manufactures in Bangkok, Thailand and is exporting to the Canadian, and United States market.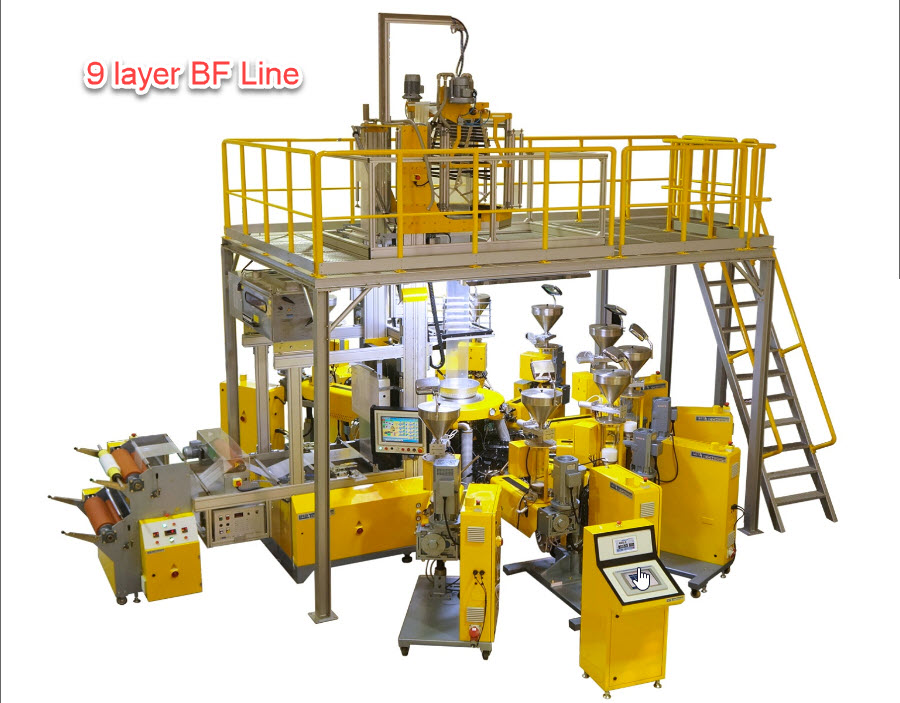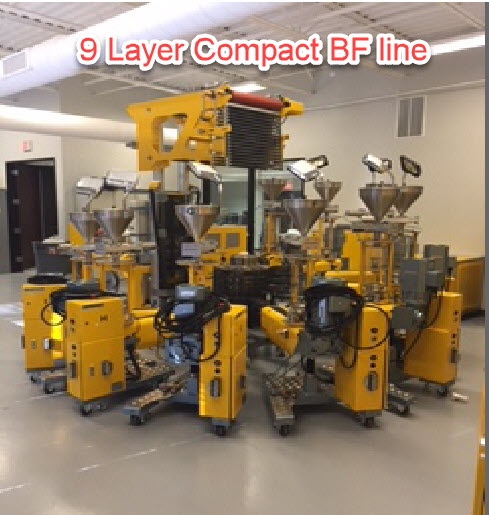 Click here to view new low headroom 5 layer compact blown film line video



Mini Chill roll cast film line with 16mm extruder for maximum color dispersion.





150mm chill roll width.



Mini 5 layer co-extrusion line

24:1 L/D, 12mm/8mm conical screw accepts 1.5mm X 1.5mm pellets, perfect for Universities. Click Here to see Video.
OUR PRODUCT LINE - LABORATORY EQUIPMENT
Click to view a few installations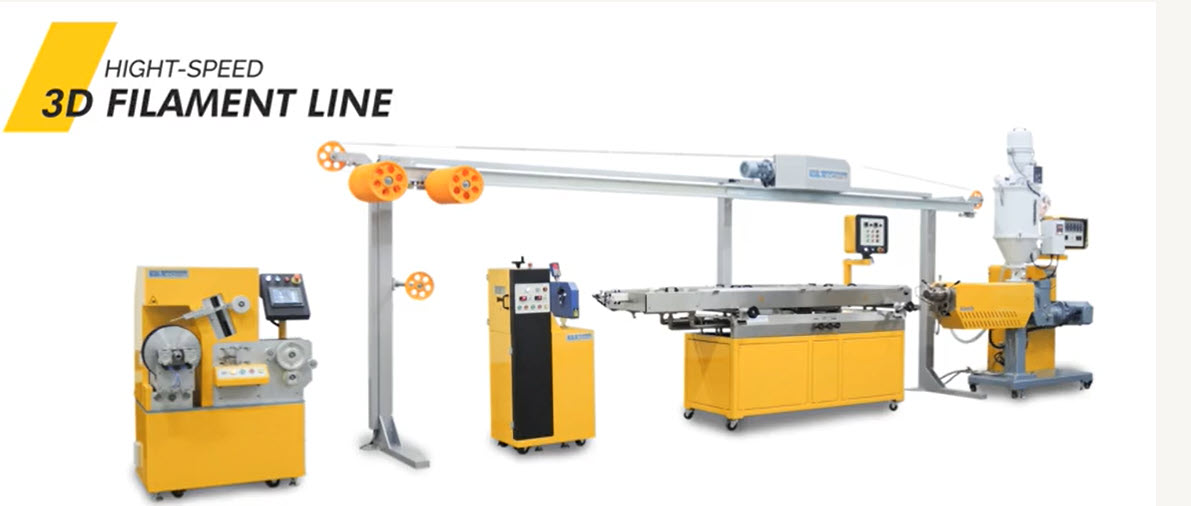 _____
130 meters/minute
with outstanding reel geometry, to be shown at the 2022 K Show
Totally new advanced design high speed winder with no "birds nests"
Click here to view video of previous line running!!!
_____________________________________________________________________________________________________________________________
12.5mm, 20mm, 25mm, 30mm, 40mm, 45mm, 60mm, all 30:1 L/D extruders.
Blown film lines for film lay-flat widths of up to 550 mm. Include features such as a twin-channel cooling ring, nip rolls, variable speed haul-off, slitters and winder. Blown film die sizes from 20mm to 120mm. An optional oscillating nip roll is available for the LF-400 blown film line.
Co-extrusion lines for films with up to 9 layers. Large film tower with twin pillars, modern design enclosure, pneumatic nip rolls, infinitely variable-speed drive, high-capacity cooling ring, film wind-up, and freestanding central control cabinet incorporating all controls for the tower and extruders.

Two Station Surface Winders and Single or Two Station Constant Tension Winders

The Constant Tension Winders are equipped with bobbin free pneumatic expansion shafts for easy roll removal. Tension for both rolls is independently adjustable.

Hydraulic & Electric Laboratory Presses:
Hydraulic laboratory presses from 20 to 80 metric tons platen pressure. A double set of heating and cooling platens are standard. Available with a fully automatic platen insert cooling system as well as many platen configurations and control options.

An all new totally electric 20 ton press - Debuted at the 2012 NPE show in Orlando, Fl.

Laboratory Filter Test:
Filter test with and without a gear pump for accurate quality testing and standardization of masterbatches and compounds. Standard filter sizes from 15 down to 5 microns.

Laboratory Single Screw Lab Extruders:


Single screw laboratory extruders with diameters of 12,5, 20, 25, 30, 40, 45, and 60mm all with an L/D ratio of 30:1. The 20 mm extruder is available as a table top version. The 25mm and larger extruders are available both in vented or non-vented versions with plain screws or equipped with a Maddock mixing section, as well as a pineapple mixer at the screw tip.






25mm Vented Extruder





Laboratory High Speed Lab Mixers:
25 and 75 liter pilot plant high-speed mixers with variable impeller speed, automatic mixing cycles and optional water-cooled impeller.

N



All new design 26mm Twin Screw Extruder







Laboratory Co-rotating Twin Screw Extruders:
Modular co-rotating twin screw extruders have clam-shell barrels and our unique super hard tool steel barrel inserts. Fully closed barrels are an option. Machines are available with 12, 16, 20 and 26 mm screw diameters and L/D ratios from 32:1 to 48:1

These twin screw extruders can also be matched up with a gear pump to our chill roll casting sections, and blown film sections for development of Bio-polymers and other special film products. A new 26mm COMBI Co and Counter rotating extruder to compound PVC compounds also!!

Laboratory High Speed Mixers:
Manual and computerized high-speed mixer with optional Cooling mixer. Available in sizes from 5 to 75L, Cooling mixers up to 50L.

Strand, (Air or Water Bath), and Hot Cut air cooled Pelletizing for Laboratories and product development, small run masterbatch production. Underwater pelletizing systems.

All New! Medical Lab Extruder, 12mm Twinscrew, Air Strand Cooling, Micro Pelletizer

Laboratory Chill Roll Film and Sheet Casting Lines:

12.5mm, 20mm, 25mm, 30mm, 45mm, 60mm extruders, all 30:1 L/D.
Chill roll film and sheet casting lines are available both as floor and bench top versions. Flat die widths range from 125 mm for bench top versions up to 300 mm for floor versions. Dies have adjustable lips for sheet thickness from 0.3 to 1.5 mm or film thickness down to 0.01 mm. All three rolls are hard chromed, mirror polished and cored for water cooling and heating. Polishing roll is pneumatically operated. Co-extrusion flat film and sheet lines for up to 9 layers. Suitable for producing film and sheet with materials such as PE, PP, PS, ABS, PVC, PET, PC, etc.

Laboratory MDO Units with winder:

Labtech MDO unit shown with Co-ex Cast Film Extrusion line. A fully integrated line with either blown film or cast film for product development. MDO's are available from 350mm wide to 800mm wide rolls.

NEW!! : 6 Ton Air Clamp and servo screw Injection Molding Mac

hine for Lab Color Sample Plaques, and automated lights out molding of small parts. Excellent for Universities,




Laboratory Bench Top High Speed Mixers:


Bench top 10, 5 and 1.5 liter mini high-speed mixers with variable speed drive and easily removable mixing bowl.












A small Tabletop One Ton molding machine for molding small parts up to 5 grams





All

electric, servo motor drives




Runs on 220V single phase


Only consumes 3 amps power
Simple inexpensive molds, optional

roll around cart







All new!




Microplast 1 ton molder with bluetooth smart phone control.

Laboratory Co-Ex Cast and Blown Film Lines:


12.5mm, 20mm, 25mm, 30mm, 45mm, 60mm co-ex Blown and cast film lines up to 9 layers.

Blown Film, (3) 12.5mm extruders, 3 layer co-ex l

ine shown in the upper photo. (5) 30mm extruders, oscillating nip roll, gravimetric layer thickness control, shown in the lower photo.

Single and Co-ex Blow Molding solutions for your laboratory, and small production jobs.

Laboratory Medical Tubing Lines

25 mm Extruder with 25/1 L/D & bimetallic barrel and screw
Crosshead Die
10' Cooling Tank with 2' Vacuum Chamber
OD Monitor & Control System
Belt Puller
Traverse Winder
Call (440) 812-0132 or (810) 516-1700 for Pricing